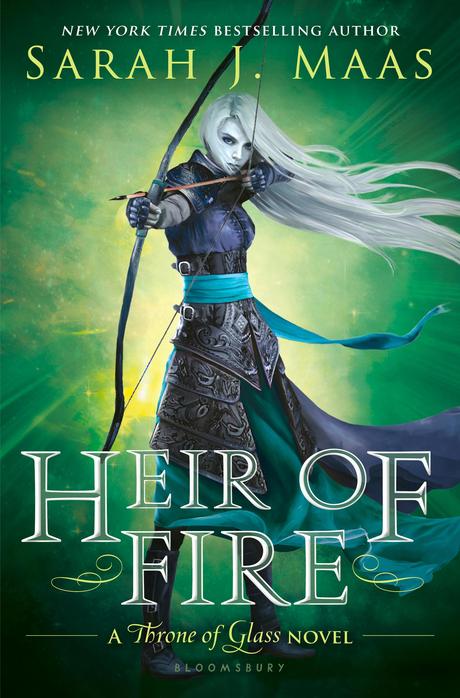 Author
: Sarah J. Maas
Date of Publication
: September 2 2014
Pages
: 562
Source
: Library ebook
Lost and broken, Celaena Sardothien's only thought is to avenge the savage death of her dearest friend: as the King of Adarlan's Assassin, she is bound to serve this tyrant, but he will pay for what he did. Any hope Celaena has of destroying the king lies in answers to be found in Wendlyn. Sacrificing his future, Chaol, the Captain of the King's Guard, has sent Celaena there to protect her, but her darkest demons lay in that same place. If she can overcome them, she will be Adarlan's biggest threat – and his own toughest enemy.
While Celaena learns of her true destiny, and the eyes of Erilea are on Wendlyn, a brutal and beastly force is preparing to take to the skies. Will Celaena find the strength not only to win her own battles, but to fight a war that could pit her loyalties to her own people against those she has grown to love?
This review will be written as a letter to Sarah J. Maas.
Dear Sarah J. Maas,
I'm sorry that we got off on the wrong foot. I truly am. You see, I was not a fan of Throne of Glass. I did not like Celaena, I thought Chaol was dull (maybe that hasn't changed), and I thought the story was not all that original. It could have also been that I was in a terrible mood, because I am a mood reader. I was completely ready to give up on this series, and I would have, had not
literally everyone, including my co-blogger
told me to continue.
When the positive reviews for Crown of Midnight rolled on, one major theme I saw was that people said this was better than Throne of Glass. Still, I was skeptical. I had, at that time, made it a goal of mine to be much more selective about the books I read and I'm sorry that I didn't have much faith. It's not even like I hated Throne of Glass-- I just didn't seem to connect to any part of the story. With the urge of the blogging community and Mari, I gave it a try.
I think I approached Crown of Midnight in a "show me what you got" kind of way, and I was really happy when it started to click for me. I mean, look at the shining enthusiasm of my review!
Crown of Midnight is an entertaining novel. It has an interesting plot and mythology that, I admit, I was suspicious of, up to a certain point where it completely won me over.
But there was hope. I was soooooo happy with a certain plot twist that was just brilliant because it raised the level of the whole series. I was so hopeful that the next book would be good.
Sarah J. Maas, I was so freaking wrong. I was soooooooo wrong about this series because it is special, thrilling, and fun. Celaena is a phenomenal character, and the world is fascinating. I'm so happy that I've enjoyed every book you wrote even more. Case in point: I read Heir of Fire in two sittings-- when I went to bed yesterday, and it was the first thing I did when I woke up today (#summervacation!!). And it was engrossing, and fun, and thrilling, and superlative superlative superlative
You converted me into a major fan. I am so happy I continued with your books and I am so sorry I doubted your brilliance. I mean, this is me right now.
I am now a total fan of Celaena and her world, and am so totally dying for the next book. Also, there's a good chance I'm going to devour A Court of Thorn and Roses too.
Now let's get to what I love about Heir of Fire.
ZOMG new characters! They were brilliant! I loved the new characters so much. I loved how you developed them, and I loved that they were complicated and fascinating and strong. There are obviously some I loved more than others (I'll keep it spoiler free and not mention who) but I'm still squealing and swooning over one character so yayy.
I mean, these characters were so fierce and they had their own back stories. I loved that there was a (don't kill me for this comparison) but Game of Throne-esque situation in which different characters and actors from all across this lovely world were doing their own thing and building their own storylines and it felt like watching Dani train her dragons while Robb was learning to be king and you just know that these story lines will converge one day and it shall be spectacular. So, this part, the split perspectives and managing to make each story engaging in its own way, was wonderful.
Perhaps the biggest turnaround is my new love for Celaena. I just never connected with her and felt there was something off until the twist of the last book, and in this book, I began to truly love her. This poor girl and I finally built a relationship and I thought she was so strong and charming. I could connect with her and I even shed a few tears! I thought the character development in Heir of Fire for Celaena was extremely strong because her character was at a point where she could refresh herself and build herself up to be stronger. I thought that learning about what made Celaena tick, learning about her past and her regrets and fears truly made me sympathize with her and I finally started to connect to her. I think this sort of character development, most pronounced in Celaena's plot but subtly in all the characters' POVs is an essential part of what makes Heir of Fire good. I loved that they were all learning about life and sometimes it was uncomfortable for them, but I loved moral ambiguities and characters having to make tough decisions. I'm evil in that way.
And the magic and mythology! It was so much fun. I was happy dancing at some points because I thought the story was so much fun. I loved the triumphs of some of the characters and there were a lot of OMG YESSS but there was also one character who got a super tough deal and seeing as they are a favourite of mine, I hope they're okay. The magic was exhilarating. We all got past ice-breakers and introductions and finally we're getting to the core of the story, and I love that you, lovely author, are still doing new things and introducing major surprises. So thanks for keeping it fresh!
Now, if there is one more request I have, seeing as I'm a picky reader and seeing as how you have delivered in everything I wanted in my last review, it's to make sure this story stays dark. There are some lovely moments of triumph, and I relish them. However, these moments are made all the more impactful by the hard times. I thought Heir of Fire was great because it was the darkest story so far and the characters had to go through tough shit. Sometimes, the lure of destiny is a little too strong and although this story could easily go in the way of a black vs white, good vs evil conflict, I think it's stronger when the heroes are tragic. The characters have made certain choices and I'm really hoping that we see them have to consider the impact of their choices, and live with some of the negative consequences too. Of course, this is a personal preference of mine and Sarah J. Maas, you can do whatever the hell you want to do.
Also, why did you leave with that ending? Why? Is it because you hate your readers? You want us to suffer in agony as we desperately crave the rest of Celaena's story? Authors are really cruel sometimes.
I love you all anyway.
In any case, I was wrong, I'm so happy with this series, I'm eagerly anticipating the next book, and omg leave a comment so we can fangirl about some of the stuff that happened! Thank you Sarah J. Maas and I'm so excited for the sequel!
Thanks again and I'm sorry for doubting you,
P.E.